About Jim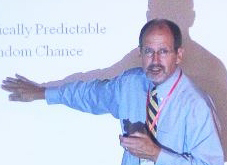 James F. Leonard is a semi-retired consultant and educator who specializes in teaching the principles of the late Dr. W. Edwards Deming as a new system of management. He helps organizations implement systems for improving quality, productivity, and competitive position. Jim's clients come from a wide variety of industries, including power generation, electronics, health care, chemicals, robotics, biotech, injection molding, medical devices and consumer products. He has also worked with service organizations, schools and government agencies.
A dynamic lecturer, Jim has been featured at regional and national conferences for managers and professionals in industry, government, and education. He has worked with manufacturing and service organizations throughout North America, Europe, and in China. Jim served as an Adjunct Professor of Psychology at Nichols College and lectured at the Pennsylvania State University, Kent State University, Hong Kong University and other colleges. In addition to supporting his own clients, he worked with clients in China as an instructor for the China Institute for Innovation in Shanghai; and is a Senior Consultant for Quality Support Group, Inc., a quality training and consulting provider based in Westford, Massachusetts. For 29 years, Jim presented his seminars through the Division of Corporate and Professional Education at the Worcester Polytechnic Institute in Worcester, Massachusetts, where he also served as an Adjunct Professor of graduate Operations and Industrial Engineering.
Jim is an alumnus of the U.S. Naval Academy, where he majored in Mechanical Engineering and Analytical Management. He received a Bachelor of Science degree from the George Washington University, and later earned his graduate degree in Organization Development from Clark University. Jim served on the New England Deming Prize Committee, the American Quality and Productivity Institute's Education Forum, and the Juran Institute's Advisory Committee for Quality in Service Industries. He also assisted Dr. Deming in Deming's four-day executive seminar, "Quality, Productivity and Competitive Position."
Jim's papers and articles have appeared in journals as diverse as The Industrial Physicist Magazine, the Training & Development Journal, South Carolina Business, Quality Progress Magazine and the Juran Report, as well as quarterlies published by the American Association of School Administrators and the New England Association of School Superintendents. His text, The New Philosophy for K-12 Education: A Deming Framework for Transforming America's Schools, was published by ASQ Quality Press, Milwaukee, Wisconsin.
Jim resides in Ave Maria, Florida, with his wife Kate. They are the proud parents of six children and the grandparents of ten grandchildren.

"Jim's training on various aspects of quality was not only valuable but fun. Our team looked forward to his seminars. Jim's training was part of a quality improvement initiative that led to our business moving from sixth in UK market share to third while quadrupling profits in six years." — Don Mattes, President, Andover Controls Ltd.
"Under Jim Leonard's guidance, we have applied his tools, principles and concepts to achieve a number of impressive improvements. Local business partners are reporting a much higher level of respect for our district; new behaviors are evident among administrators and teaching staff; and student test scores haver shown statistically significant improvement in just a four-year period." — Dr. Elizabeth Clark, Deputy Superintendent, Hallsville Independent School District
"Over my 20+ year career in Biotech Manufacturing Management, I have met a substantial number of trainers and consultants. Jim Leonard is far and above the most skilled trainer that I have had the pleasure to meet. I say this not only because of Jim's mastery of the tools and concepts of Lean, Six Sigma and Continuous Improvement, but also his style and ability to interject personal experiences, anecdotes, and humor in order to motivate and inspire even the most unwilling of students." — Glen Firth, Director of Manufacturing, GTC Biotherapeutics